In a recent post by Dai Shihan Mark Roemke, he told the story of going to the island of St. Croix for five days of testing survival skills. He ended that post with this nugget of wisdom...
"It's good to sometimes be uncomfortable in situations that you might not think you could ever endure."
This statement made me think of the local twenty-six acre pond in my neighborhood.
But before I proceed further, first...The Dunker's Disclaimer
Most written material you encounter about swimming in cold water comes with big disclaimers, in big red bold font, advising of the hazards if you are not careful. I have been teaching wild edible plant classes for years. Likewise, most edible plant books come with similar disclaimers saying to read the material, but don't go out there and eat wild plants willy nilly. These cautions considered, there is something worth claiming in these experiences. Within the content is an invitation for a life-enhancing experience, but only if you proceed safely, do your research diligently, share your experience with a buddy, and possibly with consultation of a physician. My friend Duncan in the story below happens to work in the healthcare profession, so I had a slight advantage. I consider myself a strong swimmer, so add one more advantage.
So, enjoy the story for what it is, a story and not a how-to guide. But if you want a swim buddy...I'm easy to find.
*********
Since I was five years old, I've been a creature of the water. Competitive swimming was my life from this young age through college. After college, I "retired" to surfing when I moved to Hawaii and then California. I have stayed wet whenever possible over much of my life. I'm lucky to have lived in South Kona, Hawaii where I could snorkel daily with green sea turtles and swim at night with manta rays and bioluminescence. I've swum through rapids of the Grand Canyon and dunked at the base of pure spring desert waterfalls where you could drink the water while submerged. In Alaska I swam in cold rivers sourced from glacial melt (I didn't last long in those cold waters).
None of these experiences however, could compare to the connection I've had with our local pond over the past twelve months. The onset of Covid over a year ago resulted in the local indoor swimming pool shutting down. Little did I realize that this would change my life and more specifically my relation to water.
70's Fahrenheit— In early June last year, my friend Duncan called me on the phone. "Ken, I'd like to work on my crawl stroke. Since you used to coach swimming, could you give me some pointers?" Duncan showed up the next morning, and we started swimming across the pond. I gave him some pointers. The water was a comfortable temperature, in the mid-seventies. We started swimming three times a week at 7 am. Dawn patrol fishermen dotted the shore, and occasional morning swimmers roamed the periphery. After two and a half years living by the pond, I hadn't "trained" by doing long distance swimming in these waters. I usually ventured down daily to romp in the pond with family and friends. For some reason I had been in a rut. I believed the indoor pool was for "training" and outdoors was for fun and play. That was about to change.
The water was relatively clear and warm. Being a faster swimmer, I swam ahead of Duncan and then floated on my back to watch ospreys, hawks, kingfishers or eagles while he caught up. I was starting to like this routine.
80's— As late summer approached, the water warmed. Occasionally you could see a thin film along the surface. Pollen or algae? Hard to tell. The temperature was warm enough to heat my core and face to an almost uncomfortable level during peak exertion. Duncan was getting faster. He had outfitted himself with fins, and we now kept a similar pace. He started arriving with printed Google maps showing the distance we had covered previously, and a route we could take from beach to beach to fence and back that equaled a mile. The sunfish roamed the shore's edge and would nibble our toes if we lingered near too long in the calf-deep water of the pond's edge. My favorite mornings were swimming through a low layer of warm mist in the rain.
70's— As summer drew to a close, the swimming crowds thinned in the morning as virtual or hybrid schooling kicked in due to the pandemic. Duncan continued to arrive at my house on his bike by 7 am three times a week. It was nice feeling the shift back to a more comfortable water temperature. We could swim a little harder without overheating. The die hard morning swimmers still arrived, and you could see their brightly colored floats trailing behind them as they traversed the pond. The early fall bird migrations were beginning. When I did backstroke, I watched geese fly over in "V" formation, while I oriented myself to the cardinal directions. "Let's see, which way is north?" I would think. Some flocks were already beginning their southward journeys.
60's— I remember thinking at the pond one morning..."Where did all the swimmers go?"  Getting in the water in the morning was starting to feel a bit jolting to my body. When I surfed in California, the ocean water was usually between 55-60 degrees Fahrenheit year round. During the early New England fall, the kids and I had continued surfing in New Hampshire, Boston, and Rhode Island. We had been tracking the local ocean temperature at those locations. The pond temperature felt like it was in the same range. Being curious as to the daily pond temperature, I went to the local hardware store and bought a cheap thermometer. It confirmed that the temperature was in the 60's. The morning swims felt so refreshing. The hot cup of coffee upon returning home after swims tasted better as I hugged it to my chest for warmth.
50's— "That's it. I'm done. Too cold!" said Duncan one morning after making it to the first dock buoy then quickly retreating to the shore. Now what? I went online that day and found a used cold water triathlon wetsuit. The online ads all had the same description— "Used twice to train, then once for the race." It showed up in the mail two days later. I was back in the water feeling super floaty and warm in my new suit. This is awesome, I thought— now I can swim through winter! Maybe. There was the complication of ice. Try as I might, I couldn't convince Duncan to get a wetsuit to join me. So, I borrowed my wife's pink flotation buoy for my safety comfort companion and I kept going. I was expecting the water clarity to improve, but the opposite happened. The water became cloudy. There were days when the multi-colored fall leaves sank below the surface creating a mosaic of oak, pine and maple leaves in suspension as they slowly descended to the bottom. It was beautiful to swim through.
40's— I kept swimming several times a week in my wetsuit. And then I saw the documentary My Octopus Teacher. In the movie, Craig Foster mentioned that he swam everyday for a year in the South African coastal waters. He said the water was around 5 degrees Celsius year round. I was a big fan of his work and had seen all of his previous documentaries. I pulled up the conversion table. 5 Celsius = 41 Fahrenheit. Craig swam in the movie with only a mask, snorkel, fins, a neoprene hoodie, and shorts. The previous winter I had taken a Wim Hof cold training course and had spent 15 minutes up to my neck in the water on the edge of the pond on a sunny January morning. My January dunk the previous winter was a glimpse into this cold water experience.
I froze the frame on the documentary so I could see the brand of neoprene hoodie that Craig wore. I placed my order. A few days later, I put my wetsuit back in the storage box and stood on the edge of the pond in my swim shorts, a new 5 mm thick hoodie, and a pink buoy belt around my waist. I looked kinda goofy, but I didn't care. There was no one around anyway. The temperature had just dropped recently to 49 Fahrenheit. I dove in.The shock was immediate, but with a warm brain and no "ice cream headaches," I swam. I could feel a shift in my core. My muscles in my arms tightened and felt a bit numb. My pace slowed. I only swam for about five minutes. When I emerged on the shore my legs, arms, and torso were pink, but I felt so good. I'm pretty sure this feeling could be attributed to the endorphin rush that accompanies cold water immersion. The few remaining fall fishermen I encountered in the weeks that followed would occasionally make funny comments when I swam by their boats. But I kept swimming. I was hooked.
30's — Occasionally I coerced my daughter Phoebe to be my "copilot" and accompany me on my swims. She homeschools, and at the time was taking a class across the pond at a local teacher's house. I'd swim with her to class while she paddled the kayak. After dropping her off, I tied a strap around my waist and pulled the kayak back. Later in the afternoon I would reverse the process.
The first day it snowed while I was swimming in the pond, Phoebe joined me, paddling the kayak. She wore her favorite rainbow colored snow jacket. The water was warmer than the air, so it actually felt more comfortable to be in the water than standing on shore in the snow. Some winter days though, when the wind blew, and the snow was on the ground, it was really hard to get out of the water (or into the water). One windy winter day my fingers were so cold that I couldn't get my socks on when I emerged. Attempting to insert a wet foot into a fuzzy snow boot resulted in a wardrobe malfunction, and I had to hobble home trying to push my skateboard while wearing floppy boots. It didn't work well.
Freeze-Up— When the ice first appeared, for a limited time I could break through the thin layer and make a short channel for swimming if I wore my neoprene gloves to keep the ice from cutting my hands. I started researching the effects of cold on the body, so I could understand more about what was happening to my brain and body. I learned about the safety precautions and the benefits to my immune system, brown fat, and mental well being. I joined several cold water swim forums and learned tips to be safe. I never ventured far from shore. I only swam for the recommended time based on the water temperature. As the pond approached the freezing point, the feeling of swimming in water in the 30's was intense and edgy. I would only swim for a couple minutes before retreating to my towel.
Eventually the thick ice came, and the swimming halted. I read Norwegian ice swimming forums where they debated the best chainsaw or axe for cutting holes through thick ice. I missed the routine and the feeling of my weekly swims. I looked for a few windows, when I wouldn't disturb the ice fishing or skaters. I cut a small hole a few times in the thick ice with my maul, just big enough for a shallow stationary dunk.
Break-Up— As spring approached, the ice began to thaw around the edges and I resumed short dunks and then longer forays. One day as the ice retreated, I donned my wetsuit, hoodie, and gloves and called on my kayak copilot. Being someone who studies "survival" skills, I wanted to have a gauge for how thin ice needed to be to fall through, and what it would feel like to break through thin ice. With Phoebe as my backup, I swam to the edge of the remaining ice sheet and scrambled onto the ice. I jumped up and down until it cracked and I fell through. I did this repeatedly and practiced scrambling out onto thin ice after falling through. I appreciated my wetsuit and my copilot. I learned a lot that day about ice dynamics and how to practice pulling myself out should I ever need the skill. I had so much fun that a few days later I tried it again, but the warming conditions had changed so rapidly that I could no longer scramble onto the ice. Instead, it broke under my arms as I swam. I'd have to wait until next winter to try again.
40's— I remember one day years ago, after surfing the winter Santa Cruz waves, when I had an extremely difficult time getting my car key into the lock because my hands were shaking so violently. This past  winter, after I walked home from swimming in the cold water of the pond, when I reached my driveway, the cold core shivers would begin. I did some research.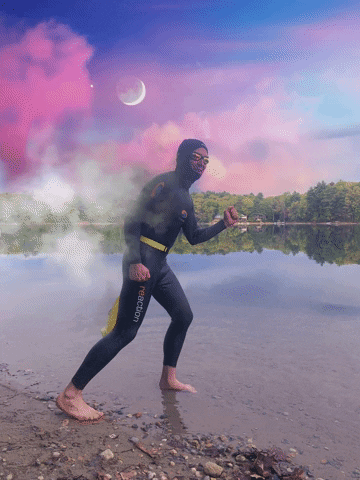 "After drop", also known as peripheral vasoconstriction, is what happens after you leave cold water. When your body is exposed to cold, it cleverly closes down the circulation in your limbs in order to keep the core and its vital organs warm. When you get out of the water and put warm clothes on, the body reverses the process. The warm circulation returns to the limbs, but this time the cold blood of the limbs returns to the core body and your core temperature will actually drop. So you start shivering. I'd make my coffee with shivering hands and then sit on a couch wrapped in a wool blanket until the shivering subsided while I read a book.
Soon, flocks of migratory merganser ducks arrived. They would spend parts of their days resting on the shrinking patch of floating pond ice. Within a week of their arrival, their icy resting spot disappeared. I slowly started venturing further from shore as the days grew longer and my arms could tolerate warmer water.
50's — The swallows arrived as the water temperature warmed. The dawn chorus of the local birds was finished by the time I arrived for morning spring swims. I started calling Duncan again. I coerced him to try my wetsuit. He reluctantly showed up one morning, borrowed my suit and joined me once again. He soon bought a matching neoprene hoodie. It was good to have a swim buddy again. The water was the clearest it had been all year. It was amazing to swim over the deepest holes of the kettle pond and see the bottom. The bald eagle and the osprey returned, as did the fishermen. The bass started reappearing in small groups from the depths. The clear water wouldn't last long. With the spring bloom, the pollen soon clouded the water followed by cottonwood fluff on the surface. By 7:15 when we'd hit the water, the sun was well above the trees. I sneezed often from the pollen on the walk home.
60's— As I write, the after drops are diminishing and all but gone. Parts of the surface water on the south facing shore are hitting the 60's. Duncan purchased his own second-hand wetsuit, "Used twice to train, then once for the race," so I'll hopefully have a swimming buddy as fall returns next time with its chill. The water has warmed past the "brain freeze point." Tomorrow morning I'll ditch the hoodie. As Duncan and I continue swimming the pond perimeter, we have come full circle in the seasons of the pond. As summer approaches, I am melancholy for the slowly fading cold water.
The temperature cycle is a personality of the pond that will depart but return, as it has for millennia. I'll continue returning too, but these cycles of the pond will far outlast my human form. Still, for my short time here, I am changed by its waters. I am so grateful for this pond and what it has taught me this past year. While the pandemic raged and worry abounded, I have been able to find windows of hope in the chilly waters. I called my dunks my "sanity swims" even though some people shook their heads and called me crazy. I get stuck in my mind more than I would like. I fret about the past and worry about the future. At times the pandemic amplified this. While some days I was hesitant to venture into the cold water, I welcomed each opportunity to swim, because the pond gifted me moments to truly be present.
It's really hard to describe the sensation of the deep cold swims. The moment I plunged into the cold water, my lungs reflexively gasped, but then, after the first initial strokes, I was just there. Sometimes it was a detached feeling, as if I were an observer watching my arms move through the air and water. Other times I was lost in the experience, as I gazed at the patterns of rocks, stumps, leaves, and fish below me. My favorite moments happened at the end of the swims, when I rolled over, grabbed my buoy and just floated— I lost the boundary between my form and the water, watched the clouds drift, felt my heartbeat in my chest, and was glad to be alive for another day.
********
Nin means "to persevere." We'll let you in on a big secret for how to persevere in nature. It's called a sit spot. This is a place that you visit to observe the natural landscape as many times weekly as possible. I once trained at a Wilderness First Responder course. In this intensive training, the instructor made a side comment that stuck with me. She said that people who spend regular time outdoors visiting nature statistically have a better chance for surviving a wilderness survival situation.
Why? It's all about attitude.
People who adopt a sit spot and visit the location repeatedly, year-round, rain or shine, wind or snow, become comfortable being uncomfortable in nature. They also learn to be present in nature, which helps shift your attitude when faced with challenges. Finding a sit spot that you can visit year round is a doorway to developing a present mindset. I've spent a couple decades, from Alaska, to Hawaii, to California, and now to New England visiting and keeping journals of my local sit spots. My year round pond experience was an extension of my backdoor sit spot.
Remember, the most important thing about a sit spot is that it needs to be convenient, otherwise you will never make it there.
What do you do when you get there? Turn off your phone. Observe. "Lose your mind and find your senses," as some say. Ask questions. Breathe. Connect. Tune in to the birds. Just be. If you really want to take a deep sit spot dive, check out our interview with Josh Lane. He's a sit spot Jedi.
Check out the video below where we introduce some perspectives on finding a sit spot.